Manfred Fett (Avida)
Senior teacher
MA, since 1980 working as consultant, trainer, coach and therapist with individuals, groups and organisations. Experienced in various realms of personal growth and spiritual unfoldment, particularly trained in Gestalt Therapy, Bioenergetic, Counseling, Ericksonian Hypnosis, NLP and Somatic Experiencing. He works with Faisal since 1997, as Diamond Logos teacher since 2003.
manfred.fett@integrationen.de
0049(0)89 9036999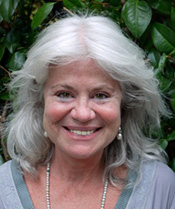 Floriane Usener
Senior teacher
Healing practitioner. She is trained in Traumatherapie, Gestalt-Arttherapie, Breaththerapie as well as in eastern and western Meditation Methods. For the past 30 years she has been working in clinical institutions and in her own practice. Since 1997 she is in Training with Faisal and the DiamondLogos Teachings have become the main focus of her work. As a Senior Teacher she is now practicing in Munich and is leading retreats in Germany.
info@floriane-usener.de
www.floriane-usener.de
Najma Neuhoff is working since 1988 as body therapist and since 1998 as body-oriented psychotherapist in her own praxis in Berlin. After a study of psychology, she turned in 1984 towards body-oriented therapy and meditation. Since then she has been trained intensively in different methods of bodywork, human growth oriented psychotherapy and meditation. She is an recognized craniosacral therapist, as well as an acknowledged and experienced trauma therapist with an emphasis on developmental trauma. She is in the work with Faisal since 2004. Her focus since then is the integration of resource-oriented trauma therapie and the Diamond Logos Teachings. In her work now, she understands Essence as the deepest resource available.
www.stillpoint.de
Rani has worked since 1980 in the field of therapy, meditation and transformation.  She trained in various forms of bodywork and ways of Transpersonal Psychology.  Both Indian Mystics, Osho and Ammachi, have deeply influenced her and her work .  She lived in India for 17 years, working and meditating and has been sharing her work worldwide.  In 2006 she met Faisal Muqaddam and found in the Diamond Logos Teaching all the missing links for integration between the soul and the personality.  Since then the Diamond Logos Teaching is at the heart of all her work.  Her approach is simple, clear and loving.
www.rani-willems.org
rani@rani-willems.org